Metta Yoga 慈心瑜伽
Posted By

admin

On

Friday, 22 September 2017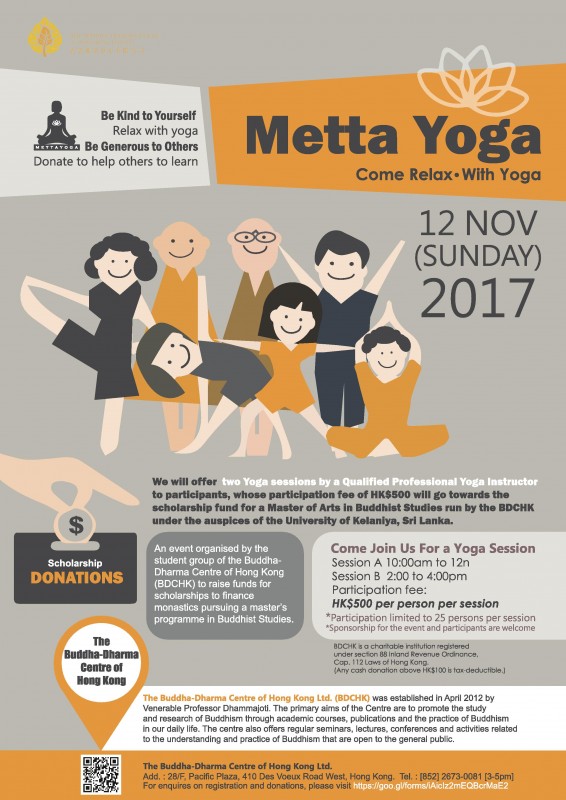 Fund-raising for Monastic Scholarships
Come join us for some healthy fun on our "Metta Yoga" day to help us raise funds for monastic scholarships on 12 November 2017 (Sunday).
We need your support to make the fund-raising a success so that deserving members of the sangha can further their studies at our Centre.
You can show your support by:
(1) Taking part in the event and pay a participation fee of HK$500, which will go to the scholarship fund.
(2) Sponsoring the participants or other aspects of the event;
(3) Donating directly to the scholarship fund.
Registration: https://goo.gl/forms/iAicIz2mEQBcrMaE2
Note: Donations above HK$100 are tax-deductible.
The Buddha-Dharma Centre of Hong Kong
僧伽獎學金籌款
現誠邀大家出席十一月十二日(星期日)歡樂而健康之慈心瑜伽。活動旨在籌助僧伽獎學金,讓有識僧眾能入讀香港佛法中心課程。我們需要您的支持。
您可以;
(1) 以港幣五百元正參加慈心瑜伽,收益將撥入獎學金基金;
(2) 贊助其他參加者參與或直接贊助活動;
(3) 直接捐款獎學金基金。
網上報名:https://goo.gl/forms/iAicIz2mEQBcrMaE2
港幣一百元正或以上捐款可憑正式收據申請稅務減免。報名詳情請參閱宣傳海報。
香港佛法中心